English
At Hey with Zion, teachers develop pupils' spoken language, reading, writing and vocabulary as integral aspects of the teaching of every subject. English is both a subject in its own right and the medium for teaching; for pupils, understanding the language provides access to the whole curriculum. Fluency in the English language is an essential foundation for success in all subjects.
Pupils are taught to speak clearly and convey ideas confidently using Standard English. They learn to justify ideas with reasons; ask questions to check understanding; develop vocabulary and build knowledge; negotiate; evaluate and build on the ideas of others; and select the appropriate register for effective communication. They are taught to give well-structured descriptions and explanations and develop their understanding through speculating, hypothesising and exploring ideas. This enables them to clarify their thinking as well as organise their ideas for writing.
Teachers develop pupils' reading and writing in all subjects to support their acquisition of knowledge. Pupils are taught to read fluently, understand extended prose (both fiction and non-fiction) and are encouraged to read for pleasure. We promote wider reading. Each classroom has a library area and we set ambitious expectations for reading at home. Pupils are expected to develop the stamina and skills to write at length, with accurate spelling and punctuation. They are taught the correct use of grammar. They build on what they have been taught to expand the range of their writing and the variety of the grammar they use. The writing they do includes narratives, explanations, descriptions, comparisons, summaries and evaluations: such writing supports them in rehearsing, understanding and consolidating what they have heard or read.
Pupils' acquisition and command of vocabulary are key to their learning and progress across the whole curriculum. Teachers therefore develop vocabulary actively, building systematically on pupils' current knowledge. They set out to increase pupils' store of words in general; also make links between known and new vocabulary and discuss the shades of meaning in similar words. In this way, pupils expand the vocabulary choices that are available to them when they write. In addition, it is vital for pupils' comprehension that they understand the meanings of words they meet in their reading across all subjects, and older pupils are taught the meaning of instruction verbs that they may meet in examination questions. It is particularly important to induct pupils into the language which defines each subject in its own right, such as accurate mathematical and scientific language.
Purpose of Study
English has a pre-eminent place in education and in society. A high-quality education in English will teach pupils to speak and write fluently so that they can communicate their ideas and emotions to others and through their reading and listening, others can communicate with them.
Through reading in particular, pupils have a chance to develop culturally, emotionally, intellectually, socially and spiritually. Literature, especially, plays a key role in such development. Reading also enables pupils both to acquire knowledge and to build on what they already know. All the skills of language are essential to participating fully as a member of society; pupils, therefore, who do not learn to speak, read and write fluently and confidently are effectively disenfranchised.
Aims
The overarching aim for English in the national curriculum is to promote high standards of language and literacy by equipping pupils with a strong command of the spoken and written word, and to develop their love of literature through widespread reading for enjoyment.
The national curriculum for English aims to ensure that all pupils:
read easily, fluently and with good understanding
develop the habit of reading widely and often, for both pleasure and information
acquire a wide vocabulary, an understanding of grammar and knowledge of linguistic conventions for reading, writing and spoken language
appreciate our rich and varied literary heritage
write clearly, accurately and coherently, adapting their language and style in and for a range of contexts, purposes and audiences
use discussion in order to learn; they should be able to elaborate and explain clearly their understanding and ideas
are competent in the arts of speaking and listening, making formal presentations, demonstrating to others and participating in debate.
Spelling, Handwriting and Reading Comprehension are all taught in both discrete and cross curricular lessons and we listen to all our children read on a one to one basis. Specific small group activities supplement the whole class learning context.
Below is our overview of study units, which are taught in English lessons from a context of particular genres and applied throughout the curriculum in extended writing, reading comprehension, speaking and listening contexts.
Phonics
We use Letters and Sounds, the main DfE scheme, for the teaching of phonics and we supplement this with Jolly Phonics. Our Key Stage One reading scheme is Oxford Reading Tree.
Enquiry-based and Literacy-loaded curriculum
We are increasingly following a Literacy-loaded and enquiry-based approach to the study of our foundation subjects. This means that where appropriate, activities will link with aspects of core texts covered in English lessons, adding context and depth to the learning, and will be framed in ways which heighten children's engagement. Our children tell us that this helps them greatly: http://heywithzion.primaryblogger.co.uk/2018/11/29/thinking-about-thinking/
Year 1:
Year One

Autumn 1

Autumn 2

Spring 1

Spring 2

Summer 1

Summer 2

Core Text

The Bog Baby – Jeanne Willis

Lost and Found – Oliver Jeffers

Beegu – Alexis Deacon

Dogger –Shirley Hughes

The Rabbit Problem – Emily Gravett/Peter Rabbit – Beatrix Potter

The Naughty Bus – Jan and Jerry Oke

Poetry

Nursery rhymes

Christmas poems

Poet study – Puffin Book of Fantastic First Poems – June Crebbin

All Aboard the Toy Train – Tony Bradman

Animal poems

Rabbits – Matt Mooney

Transport poems – Vroom, Vroom – poems about things with wheels – Paul Nicholls (The Song of the Train)

Reading

Core text/The King of the Little Things

Non-fiction books on animals and habitats.

Core text

Non-fiction books on animals in hot and cold regions.

Core text

Core text

Non-fiction books about toys

Core texts

Non-fiction books about plants and growth.

Core text

Non-fiction books about transport

Writing

Retell story or part of story

Fact file on animal

Retell story or part of story

Fact file on animal

Retell story or part of story

Recount of shelter making and facts on materials

Retell story or part of story

Information on toys

Retell story or part of story

Information on weather and plants

New adventure for the bus

Information on transport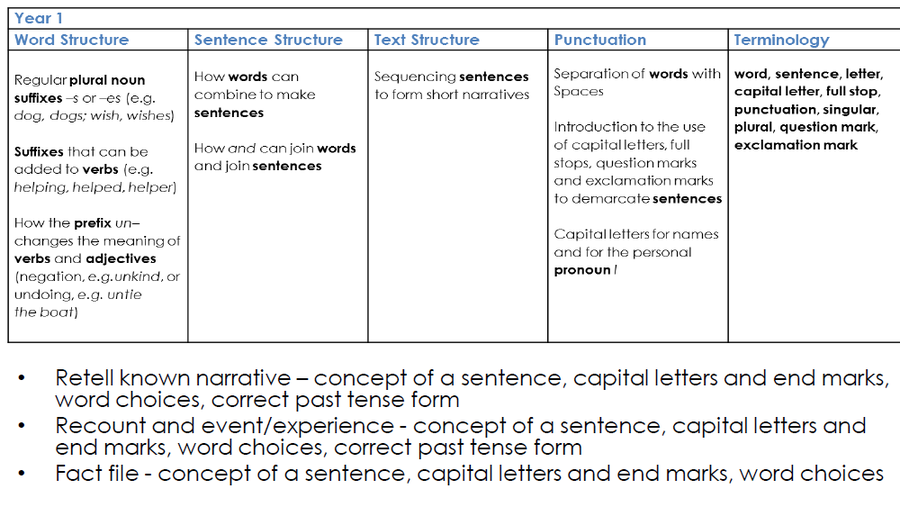 Year 2:
Year Two

Autumn 1

Autumn 2

Spring 1

Spring 2

Summer 1

Summer 2

Core Text

Wild – Emily Hughes

Man on the Moon – Simon Bartram

Traction Man – Mini Grey

The Owl and the Pussycat – Edward Lear

Lila and the Secret of Rain – David Conway

Little Evie in the Wild Wood – Jackie Morris/ Little Red Riding Hood

Poetry

Out and About by Shirley Hughes

Space Poems chosen by Gaby Morgan

Machine Poetry – Nick Sharratt and Jill Bennet

Brining the Rain to Kapiti Plain – Verna Aardeema

Dragonfly out in the Sun – David Windle

Reading

Core text

The Little Gardener – Emily Hughes

Core text

Bob and the Moon Tree Mystery – Simon Bartram

One Giant Leap – Don Brown

Core text

Traction Man and Turbo-Dog

Comics

Core text

The Further Adventures of the Owl and the Pussycat – Julia Donaldson

Lear poems

Core text/ Bringing the Rain to Kapiti Plain – Verna Aardeema

Core text/

The Good Little Wolf – Nadia Shireen/Wolves – Emily Gravett

Other wolf stories

Simile poems

Writ

Retell of story with added detail

Poem based on The Grass House

Fact Files /Information text

Narrative based on aliens Space counting poem

Instructions - How to fly to the moon/Rules for visiting the moon

Information text on astronaut

New adventure for Traction Man with the scissors

Information text on materials

Developed narrative version of Owl and Pussycat

Information text on Edward Lear

Fact file on seaside

Retell of story in more detail with a focus on developing

character and setting

Non-chronological report on Kenya and UK

Narrative with changed character

Information text on aspects of local area including animals and plants - PowerPoint
Year 3:
Year Three

Autumn 1

Autumn 2

Spring 1

Spring 2

Summer 1

Summer 2

Core Text

Orion and the Dark – Emma Yarlett

Greek Myths – Marcia Williams

The Orchard Book of Greek Myths

Stone Age Boy – Satoshi Kitamura

The First Drawing – Modicai Gerstein

Alice in Wonderland – Lewis Carroll

Abridged version – Emma Chichister Clark

The Flower – John Light

The Firework Maker's Daughter – Phillip Pullman

Poetry

The Sound Collector – Roger McGough

The Mouse's Tail – Lewis Carroll

What is Pink? Christina Rossetti

Fireworks – James Reeves

Reading

Core text

The Owl Who Was Afraid of the dark

Core texts

Core text/The Boy With the Bronze Axe – Kathleen Fidler

Core text

Core text

Core text

Writing

Retell part of story with added detail and dialogue; Poem based on The Sound Collector; Non-chronological report on light sources – Science lessons

Retell myth with invented creature

Information paragraphs on Greece now and then to write comparative report

Retell story in more detail

Non-chronological report on the Stone Age

Retell selected events from Alice's point of view to sister - Mad Hatter's Tea Party, meeting caterpillar,

Comparative report on an aspect/s of life in Victorian times compared with the present day

Poetry – Shape poems based on characters in book – caterpillar, gryphon

Retell story with added detail and dialogue

Life cycle of a plant

Fact file on plant/flower (Could be presented as a poster linked to ICT)

Retell one significant event from Lila's point of view- her journey up the mountain and meeting fire god. Information text on volcanoes Poetry – List poems on fireworks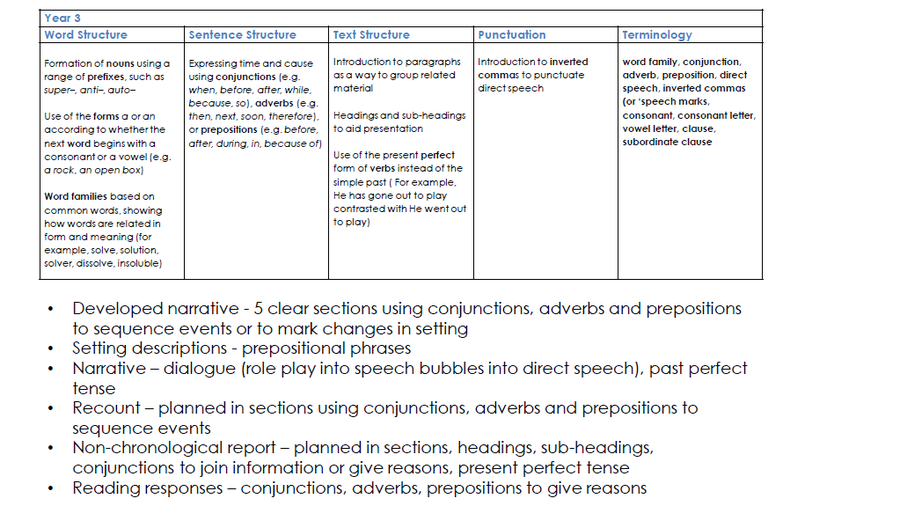 Year 4:
Year Four

Autumn 1

Autumn 2

Spring 1

Spring 2

Summer 1

Summer 2

Core Text

Escape from Pompeii – Christina Ballit

The Incredible Book Eating Boy – Oliver Jeffers

The Pied Piper – Michael Morpurgo

Egyptian Cinderella – Shirley Climo

The Promise – Nicola Davies

The Wind in the Willows – Kenneth Grahame

Poetry

Fire poetry

Bush Fire – Jacky Kay

Poet study – class choice based on core text.

The Pied Piper – Robert Browning

The Dancing Bear – Charles Causley

The River – Valerie Bloom

Guided Reading

Escape from Pompeii

Non-fiction books on the Romans.

Books linked to core to introduce a wider range.

Non-fiction on digestive system.

The Pied Piper

Core text

Traditional stories

Information books on Ancient Egypt.

The Wind in the Willows

Local reports, archive information, leaflets.

Writing

Writing in role

Information text on Roman life

Retell a story

explanation text- how do we digest our food

Rewrite story with changes

Explanation text- how sound travels

Rewrite traditional story

Explanation text- why was the River Nile important to Egyptians

List poem Persuasive text – flyer to promote the planting of trees Information text on living things

Re-write descriptive opening of story after the planting

Re-tell

Explanation text- the water cycle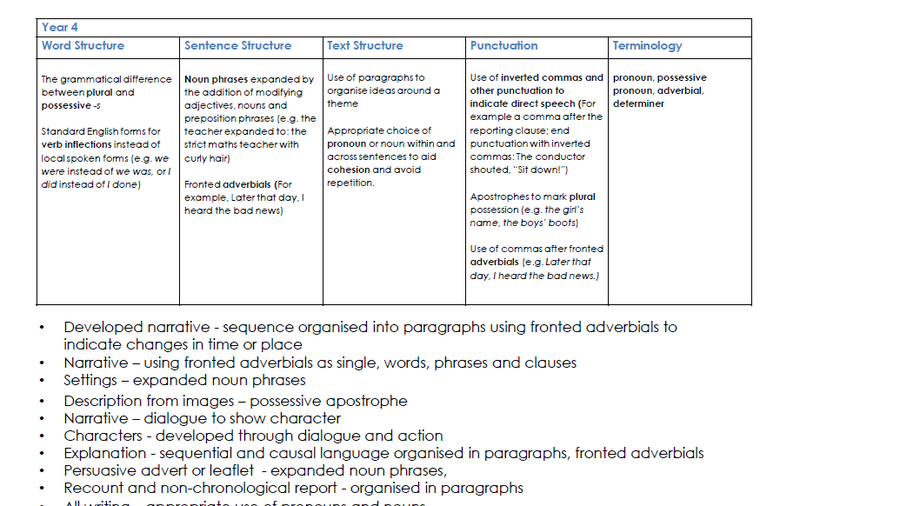 Year 5:
Year Five

Autumn 1

Autumn 2

Spring 1

Spring 2

Summer 1

Summer 2

Core Text

Leon and the Place Between – Grahame Baker-Smith

Journey to Jo'burg – Beverley Naidoo

The Lady of Shalott – Alfred Lord Tennyson

Beowulf _Michael Morpurgo

The Man who Walked Between the Towers – Mordecai Gerstein

The Nowhere Emporium – Ross Mackenzie

Poetry

The Magic Box – Kit Wright

S is for South Africa – Beverley Naidoo

Kennings

If – Rudyard Kipling

Poet study – Brian Patten

Reading

Core text

Non-fiction on earth and space, current reports on space exploration.

Core text/

A Long Walk to Freedom – children's version Nelson Mandela

Current reports as appropriate.

Core text/ King Arthur stories

Non-fiction on Anglo-saxons

Core text

Non-fiction on Vikings.

Core text

Newspaper reports, interviews of Phillipe Petit.

Core text

Writing

Narrative from when Leon enters the portal

Information piece on earth and space

Narrative – Letter from Naledi to Grace

Persuasive argument – Persuade the South African government to stop apartheid

Narrative – flashback

Persuasive argument

Writing in role

Narrative - based on style of writer

Information text

Kenning

Journalistic writing

Explanation and information Forces

Invented Wonder Room

Life cycle explanation

Eye witness report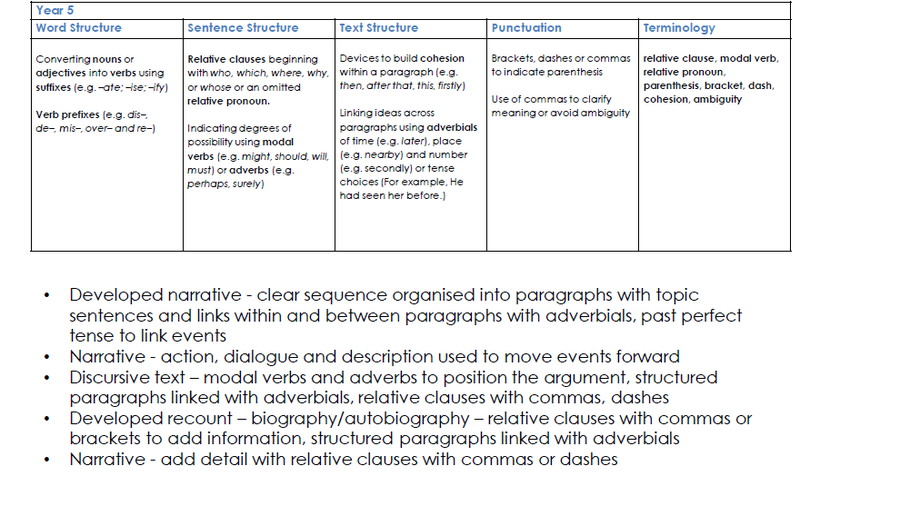 Year Six:
Autumn Novel Study

Spring 1 - 3 week unit

Spring 1 Week 4 onwards and spring 2

Summer 1

Summer 2

Core Text

Trash – Andy Mulligan

Macbeth - Shakespeare

Wonder – J. P. Palacio

Reading focus

The Spider and the Fly – Mary Howitt and Tony Di Terlizzi

Writing focus

Tales from the Arabian Nights

Poetry

The Barefoot Book of Earth Poems – Grace Nicholls

Macbeth – Shakespearean blank verse

Body Talk – Benjamin Zephaniah

The Door – Miroslav Holub

Reading

Trash

Non-fiction on South America and rain forests

Macbeth

Wonder

High quality shorter texts/extracts to support teaching of exam skills

Core Text

Tales from the Arabian Nights

Writing

Discussion texts,

journalistic writing,

narrative (new chapter)

Persuasive text- in persona of Lady Macbeth

Spell poem

Balanced argument- who was responsible for Duncan's death

Responses to reading

Recount of school tour

Eye witness account

Range of writing

Discussion texts,

journalistic writing,

narrative (new chapter)