At Hey with Zion we work hard to help all of our children achieve the very best they can, regardless of their individual circumstances. We support and encourage the children in all areas of education, with particular focus on those children with a less advantaged background.
Barriers and challenges disadvantaged pupils face within our school:
Our children for whom Pupil Premium funding is made available suffer from specific and personal combinations of the usual disadvantages of poverty in England today: these can include
· poverty
· lack of respect for education within the family culture,
· lack of educational resources e.g. books at home,
· lack of parental time allocated for educational purposes,
· lack of transport and
· lack of participation in extra curricular activities beneficial to children, e.g. membership of sports clubs/ Brownies etc.
· some self-image concerns such as to do with cheaper clothing and
· shame about their housing leading to loss of friendships as friends are not invited home.
Hey with Zion is proud, though, that through the goodwill, energy and mutual drive fostered between our "Pupil Premium" families and school, our Pupil Premium pupils actually leave our school better equipped, educationally, than the majority of the rest of the so-called better off children in our society. The table below shows our longstanding success with disadvantaged pupils, where our evolving processes have secured attainment consistently ahead of the national norm:
| Average scaled score | 2014 | 2015 | 2016 | 2017 | 2018 |
| --- | --- | --- | --- | --- | --- |
| Hey with Zion Pupil Premium pupils | 103.7 | 103.9 | 105.5 | 106.7 | 107.7 |
| National average | 100.1 | 100.3 | 100.1 | 104.1 | 104.7 |
Strategies employed to solve these issues and make sustained improvements in the outcomes for your disadvantaged pupils:
Data analysis is used as a starting point, which provides us with a direction for subsequent questioning and information gathering to enable us to optimize our impact.
We take the time with extended parents' meetings- which are proper dialogues- to get to know the PP families. We measure the impact routinely through monitoring activities in school (book scrutinies take place for all children but PP pupils' books have a sharper focus; in teachers' half termly progress meetings with management we also focus sharply on PP pupils; and the focus is not just on the academic but also the cultural impact of what we do). Bringing about good or better participation of PP pupils in extra curricular activities, for example, has been incorporated into the teachers' and headteacher's performance management target setting process, and that aspect is monitored closely in the same way as reading/ writing/ mathematical progress.
Our Pupil Premium strategy is monitored termly at full governors' meetings, and explores such areas as academic progress, attendance, participation in wider school life as well as how we actually spend the money.
Specific actions have included:
1/ An intensive programme of extra support within the classroom, for example specific phonic interventions for targeted children needing extra support, carried out in small groups led by a HLTA and before school reading groups
2/ Recognition among teachers that TA support for PP pupils is not to be run on a deficit model but with an aim of mastery at greater depth
3/ Daily reading with PP pupils for whom this becomes desirable

4/ Weekend, after school and holiday tuition in Literacy and Numeracy (1:1 and small group) with key staff e.g. Head and class teachers
5/ Incorporation of success of PP pupils- academically and socially- into teachers' and headteacher's performance management target setting
6/ Reduced adult: child ratio in the classroom
7/ Regular progress monitoring by our Headteacher, Deputy Headteacher and phase leaders, analysing and evaluating progress and identifying areas where further support is needed.
8/ Amendment of school charging policy to incorporate free and subsidised participation in extra curricular activities such as singing, film club, handball, hockey and futsal
9/ The appointment of a Learning Mentor who supports PP pupils in pastoral ways
10/ Extra-curricular enhancements including working with the Oldham Regional Science Centre for Science Club and the Oldham Music Centre for class brass lessons and choir, Oldham Athletic Community Trust, involvement with events at elite sporting venues such as by involvement with Liverpool FC, Manchester City, Manchester United and Oldham Athletic, encouraging aspirational participation.
11/ Visitors e.g. a Viking/ Olympic gold medallist/ diving world champion/ Taekwondo world champion/ National Literacy Hero into school providing access, engagement and inspiration to all children;
12/ Continued professional development for staff at INSET sessions and sustained middle leadership cpd Master's degree level to maintain awareness of children in need of special attention and resources/policies in place to help to raise attainment;
Reasons for this approach:
We have used Ofsted's "The Pupil Premium" paper (2013) to cross reference our approach and have noted that data tracking to identify the gaps- academic, attendance and behaviour related too- is the number one "gap buster." It appears to take time but the dividend for the use of that time is rich in terms of being able to optimise and maximise the impact of subsequent interventions- they are better targeted as a result.
As is stated in "The Pupil Premium Next Steps" paper- July 2015 from the Sutton Trust- "Great schools tend to be great schools for all the children in the school- the statistical correlation between who does well for FSM children and who does well for non FSM children is very high."
"Closing the gap with the new primary national curriculum" (Josephine Wilson, Sept. 2014) has supported our approach, stating that "leaders … consciously align all policy and procedures with their determination to ensure successful outcomes for every child"
The Sutton Toolkit is still used as a research backdrop to much whole school development- we update our marking and feedback policy annually, aware that feedback is the no.1 action in terms of positive impact (9 months); we have also invested in 1:1 tuition (5 months) and much computing equipment (4 months) regular homework (5 months), phonics (4 months) and sports participation (3 months), also peer tutoring (6 months) in the context of reading. We have spent much time developing our use of metacognitive learning practices in the classrooms (7 months).
In 2016 we were one of just three Oldham schools to win an award for our use of Pupil Premium money, receiving a letter from parliament praising our work: The letter from Sam Gyimah, MP, said, "You are one of the high achieving schools in the country in terms of the attainment and progress of your disadvantaged pupils since 2011." We have been invited by Rt. Hon. David Curry M.P. to write an article for the 2019 Educational Parliamentary review highlighting our successes.
The table below shows that in recent years the progress and attainment of our Pupil Premium pupils, in reading, writing and mathematics, has consistently been above the national average, and our "disadvantaged" pupils leave us academically ahead of the "advantaged" elsewhere.
Ofsted (2017) stated, "achievement of pupils who are disadvantaged is … a strength".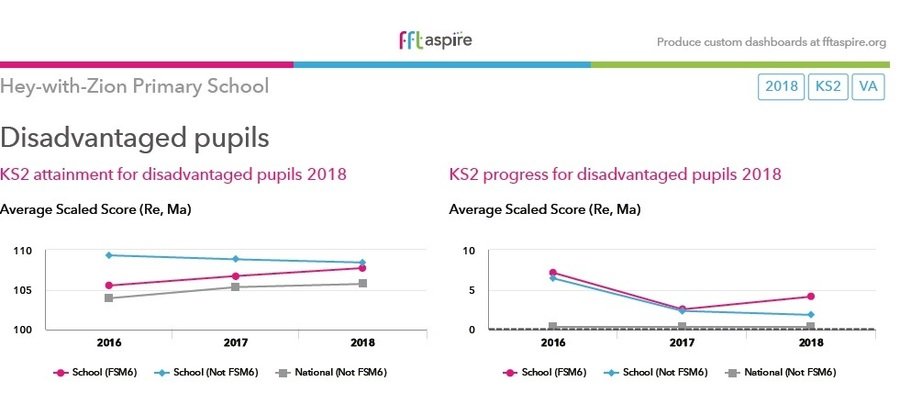 Alongside our ever sharpening focus on sustained success at reading, writing and mathematics, we are increasingly focusing on the wider life participation of PP pupils and now have all PP pupils' participation monitored, encouraged and managed to achieve success in achievement of performance management targets for teachers and the headteacher, therefore for the children.
We are also working to increase home-school communication with disadvantaged parents by growing our use of social media and offering greater flexibility around teacher-parent meetings.
Evaluation of impact:
We have evaluated the impact at every level- from subject leaders' focus on PP pupils to phase leaders' scrutiny in progress meetings, to governor scrutiny in committee meetings and full governors' meetings. Dates of forthcoming governor meetings may be found on the school website.
We have undertaken case studies of a number of Pupil Premium pupils and striven to identify what exactly are the key elements which have supported their success: the following are extracts from three of them:
The major factors underpinning Child 1's success here are identified as: good home-school links; strong Christian ethos within which child protection strategies and day to day school business take place; high expectations of attainment for all children; recognition of individual strengths and funding spent on sports and tuition to develop academic attainment in line with self esteem and concomitant enjoyment of success.
The major factors underpinning Child 2's success here are identified as: we used (and funded where necessary) resources outside and within the school to support his progression higher. We recognised other strengths such as fairness, kindness and eloquence- and provided an outlet for them such as with the school council. We made him welcome here and took the appropriate steps necessary whenever there were teething problems with social integration to make sure good classroom relations could flourish.
The major factors underpinning Child 3's success here are identified as: recognising the need for social development to fit hand in glove with academic development, and a willingness on the part of the school to go beyond the norm in providing what is required for a child. Very good relationships with the carers, too, allow us to target very clearly what he needs most.
The common denominators in these are:
* structured processes in school, emanating from data analysis, to facilitate close monitoring of the child's development
* personalized and flexible approaches to learning, with an attitude of "every child succeeds"
* attention to the emotional wellbeing of the child,
* positive, supportive relationships with the children's parents and carers.
The strengths and weaknesses of these methods:
Data analysis has been a starting point for our work. It has allowed questions to be raised e.g. by governors around different rates of progress in different year groups, and of teachers regarding progress of individuals, but we have never allowed data analysis to offer more than signposts to further scrutiny. Typically, it has raised questions which classroom based work- observations, book scrutinies, discussions with pupils and teachers- has provided not so much answers as further information to enable us to amend in order to optimise our provision. The strength of data analysis is that it directs the progressively focussed questions around the most pertinent areas of enquiry. The weakness of it is when it inferred to provide answers on its own.
Personalised and flexible approaches to learning have evidenced themselves via extended parent-teacher meetings, enabling a better connection between home and school in a similar way to how high quality AfL allows well targeted intervention in optimising a child's learning. Too much differentiation can dissipate a teacher's effectiveness, however, and we have benefited from embracing the mastery agenda.
The school's mission statement of, "Within the love of God we strive to do the best we can for ourselves and others," has been recently made and is written into all of our processes in an explicit manner. The appointment of a learning mentor has added immeasurably to our capacity to act out this in practical and real ways, beyond the well intentioned but theoretical. In this sense, attention to the emotional wellbeing of the child has been personalised at one level where need has arisen; but also in an all round way, the ethos of care in a striving, proactive manner, with staff who care and visitors from Mind/ NSPCC providing expert advice to children and parents about wellbeing issues, provides the necessary emotional foundation for academic success.
Evidence on which we have based these conclusions:
We have sustained high outcomes and very high progress in reading, writing and mathematics- according to external, historic data and triangulated internal data too.
Parent questionnaire responses and comments also show very high confidence in the school.
Case studies support these outcomes, and governor scrutiny via committee and work in school has also supported and challenged the processes. The S.I.P. report (2018) is also in concurrence.
Evidence of using research, and/or working in collaboration with other partners, in order to develop the most effective strategies to improve outcomes for disadvantaged pupils
Using research has become routine in our staff meetings- be it the findings of John Hattie which have influenced our feedback and marking policy, use of the Sutton Toolkit, assessment insights from Shirley Clarke, raising effectiveness of Numeracy teaching with the works of Askew et al, Laurie Rousham and Julie Anghileri, research has become the underpinning engine for our curriculum development. Staff have been provided with much training around Literacy via Oldham's designation as an "opportunity area".
We have become a research partner school for the Education Endowment Foundation in the context of raising standards in English and our staff are currently working proactively with NCETM on a collaborative venture around developing a deeper understanding of Maths in the classroom.
We have also engaged in a "Craft of Writing" project in conjunction with the EEF and the University of Exeter, also one of our staff has recently completed a Master's degree in Education and her action research was specifically tailored around optimising the learning experience of Pupil Premium pupils.
In March 2017 the school head was invited to lead a workshop at a Pupil Premium workshop for other headteachers in the town to share the school's successful processes.
The process are thus evolving, incrementally adding to our longstanding successful processes in supporting the accelerated learning of disadvantaged pupils via the use of Pupil Premium funding.
6/ Please replace the sports premium with this: